7 College Science Subject List has been published.
DU 7 College Science Subject List 2021-22 was published for Government Colleges located in Dhaka. The government colleges are Dhaka College, Kabi Nazrul Government College, Eden Mohila College, Begum Badrunnesa Government Women's College, Government Shaheed Suhrawardy College, Government Bangla College and Government Titumir College.
DU 7 College Science Subject List is the most important factor when a student wants to compare the subjects of different other colleges and universities. Here we have provided the science subject list of DU 7 College. If you want to get admit yourself to the DU 7 College, this list will be helpful for you.
---
7 College Science Total Seat
| Sl No | College Name | Subject | Total Seat |
| --- | --- | --- | --- |
| 1 | Dhaka College | 8 | 1090 |
| 2 | Kabi Nazrul Government College | 6 | 630 |
| 3 | Government Bangla College | 6 | 765 |
| 4 | Government Titumir College | 8 | 1510 |
| 5 | Government Shaheed Suhrawardy College | 7 | 740 |
| 6 | Eden Mohila College | 9 | 1225 |
| 7 | Begum Badrunnesa Government Women's College | 8 | 590 |
| | Total | | 6550 |
Also Read: DU 7 College Admission Circular 2021-22
---
7 College Science Subject List 2022
College Name
Subject Name
Science
Unit Merit
Science
Unit Quota
Arts
Unit Merit
Arts
Unit Quota
Commerce
Unit Merit
Commerce
Unit Quota
No of Seat
Total Seat
Dhaka College
Physics
Chemistry
Mathematics
Botany
Zoology
Geography and Environment
Psychology
Statistics
111
111
184
115
115
80
80
116
09
09
15
10
10
07
07
10
–
–
10
–
–
29
29
06
–
–
01
–
–
03
03
01
–
–
–
–
–
05
06
06
–
–
–
–
–
01
–
01
120
120
210
125
125
125
125
140
1090
Kabi Nazrul Government College
Physics
Chemistry
Mathematics
Botany
Zoology
Geography and Environment
92
92
86
92
92
83
08
08
08
08
08
07
–
–
06
–
–
30
–
–
–
–
–
03
–
–
–
–
–
06
–
–
–
–
–
01
100
100
100
100
100
130
630
Government Bangla College
Physics
Chemistry
Mathematics
Botany
Zoology
Soil Science
Geography (newly opened)
97
120
157
97
111
69

08
10
14
08
09
06

–
–
08
–
–
–

–
–
01
–
–
–

–
–
–
–
–
–

–
–
–
–
–
–

105
130
180
105
120
75
50
765
Government Titumir College
Physics
Chemistry
Mathematics
Botany
Zoology
Statistics
Geography and Environment
Psychology
230
230
262
230
230
58
45
45
20
20
23
20
20
05
04
04
–
–
14
–
–
04
16
16
–
–
01
–
–
–
02
02
–
–
–
–
–
03
03
03
–
–
–
–
–
–
–
–
250
250
300
250
250
70
70
70
1510
Government Shaheed Suhrawardy College
Physics
Chemistry
Mathematics
Botany
Zoology
Geography and Environment
Soil Science
92
111
105
92
92
64
92
08
09
09
08
08
06
08
–
–
06
–
–
23
–
–
–
–
–
–
02
–
–
–
–
–
–
05
–
–
–
–
–
–
–
–
100
120
120
100
100
100
100
740
Eden Mohila College
Physics
Chemistry
Mathematics
Botany
Zoology
Geography and Environment
Statistics
Psychology
Home Economics
115
115
175
138
138
106
40
90
77
10
10
15
12
12
09
04
08
07
–
–
09
–
–
39
03
32
27
–
–
01
–
–
03
–
03
03
–
–
–
–
–
07
03
06
05
–
–
–
–
–
01
–
01
01
125
125
200
150
150
165
50
140
120
1225
Begum Badrunnesa Government Women's College
Physics
Chemistry
Mathematics
Botany
Zoology
Geography and Environment
Psychology
Home Economics
60
79
57
51
74
51
51
51
05
06
05
04
06
05
05
05
–
–
03
–
–
18
18
18
–
–
–
–
–
02
02
02
–
–
–
–
–
04
04
04
–
–
–
–
–
–
–
–
65
85
65
55
80
80
80
80
590
Total
5546
479
364
35
70
06
6550
6550
---
---
DU 7 College Science Subject List 2022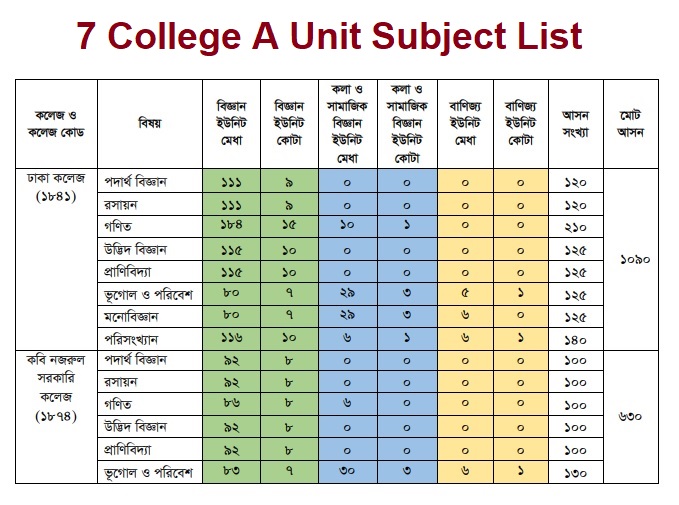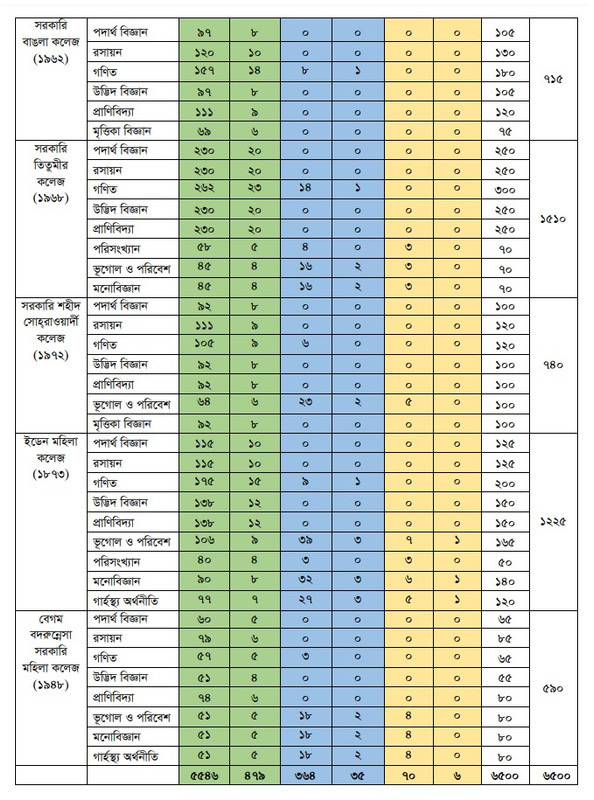 ---
Admission Information
Science Unit Admission Related Information
Online Application Related Information
Dean Office
Faculty of Science (Curzon Hall Campus)
Science & Biological Sciences Faculty Building, 2nd Floor
University of Dhaka
Phone: 09666911463/4345/4346/4347
Central Admission Office (Room No: 214)
Administrative Building
University of Dhaka
Phone: 09666911463/4052
55167724, 01743042864
01822137601, 01993992149