GST A Unit Result 2022 Download – গুচ্ছ ভর্তি পরীক্ষার রেজাল্ট ক ইউনিট
The General, Science and Technology – GST University A Unit admission test result in 2021-2022. GST A unit result 2022 has been published on GST admission official website gstadmission.ac.bd. A lot of students have participated in the admission test with the hope of getting admitted into their dream universities.
This article will help you to find the merit position of your GST A unit and other related information which is really important for the students who will have the opportunity to admit to GST Universities as per their merit position. Let's know more about GST A unit result 2022 in more detail.
Latest Updates
গুচ্ছ ভর্তি পরীক্ষার বিজ্ঞান বিভাগের এ-ইউনিটের রেজাল্ট প্রকাশ করা হয়েছে।
---
GST A Unit Result 2022
GST A unit is for the students of the science group. The GST A unit admission test for the academic session 2021-22 was held on 30 July (Saturday) 2022.
All the candidates have been given a score according to their marks obtained in the admission test. According to this score, the cluster universities will complete admissions this year. Each university will publish a separate admission circular with terms and conditions. However, this year, the Subject and University will be allotted centrally based on the Merit Score.
GST A Unit Admission Overview
Exam : GST A Unit Admission Test
Exam Date: 30 July 2022
Result Publish Date: 04 August 2022
Pass Rate : 55.63 %
Website: https://gstadmission.ac.bd/
Also Read: GST A Unit Admission
---
GST A Unit Admission Result 2022
GST A unit admission result has been published. Science group students participated in the admission test for GST A unit. This admission test was held on 30 July 2022, from 12:00 PM to 1:00 PM. An admission test of 100 marks is conducted in the MCQ system.
Students must get a minimum of 30 marks to pass. The exams are conducted in Physics, Chemistry, Biology, Higher Mathematics, Bengali, and English subjects. The merit list is prepared based on the marks obtained in the admission test. Each student is assigned a score. Universities will take admission based on this score.
---
GST Admission Result 2022 A Unit – Merit List
According to the Admission Circular, the MCQ Test Result has been published within 7 days. However, there is the possibility to publish the result earlier this date. Besides, the result is being communicated to the applicant through SMS to the mobile number mentioned in the application. You will found here all the updated information here.
This year, for the second time, integrated admission tests have been held for 22 general, science, and technology universities. All students have been given a score on this admission test. Students will be eligible to apply for their desired university (based on fulfilling the respective university requirements) after applying & pass in GST admission exam.
---
How to Check Guccho A Unit Result
Guccho A Unit Admission Result 2022 can be known through the gstadmission.ac.bd website. Students will be able to know the results of A unit after it is officially published.
GST A Unit Result by Online
Follow the below instruction to check the GST Admission Result For A Unit.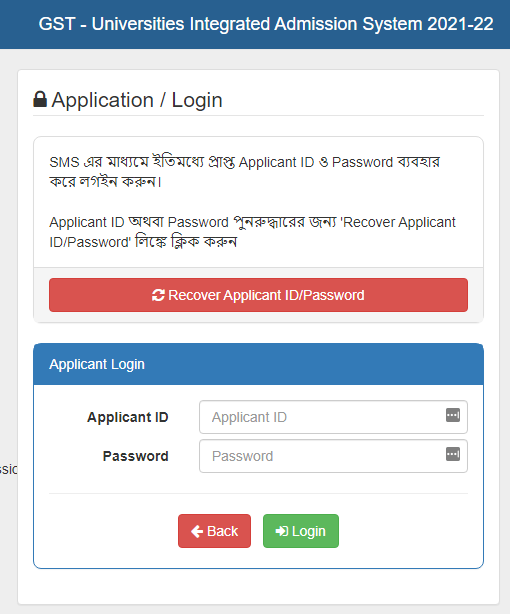 In order to get GST A Unit exam result, visit the link:

https://gstadmission.ac.bd/login-id
Write the Applicant ID and Password in the box.
After you log in you will find your applied unit name (A unit)
Then click on "See Result" to get your Result
Sample Result Screenshot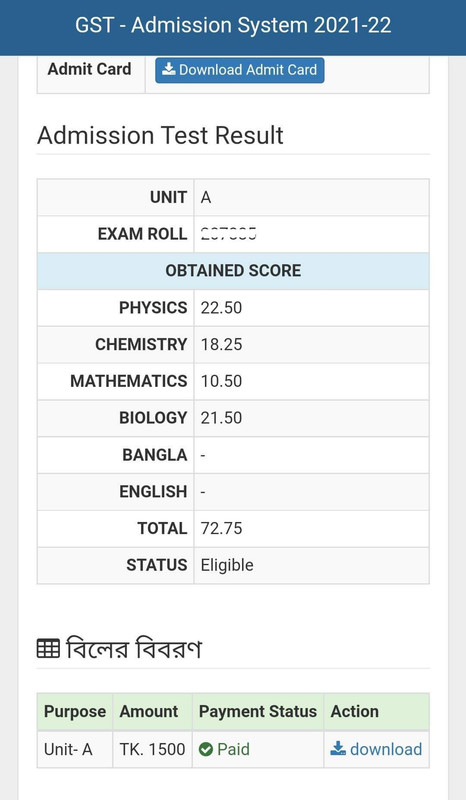 GST A Unit Result by SMS
A detailed GST Admission Test Result for the selected candidate will be sent to the candidate's mobile through SMS.
---
GST Admission A Unit Result – How to Prepare
As per the admission prospectus, applicants' merit profiles will be evaluated in accordance with Admission Test Scores. GST Admission Authority has published the final admission merit list within 7 days of the GST A unit exam.
After publishing the GST exam results, all respective universities will publish separate circulars for students who passed in GST exam by mentioning the required numbers/grade obtained in SSC/HSC & GST admission test and other requirements to apply.
---
GST University List 2022
| Science & Technology University | General University |
| --- | --- |
| 1. Shahajalal University of Science and Technology (SUST) | 13. Jagannath University |
| 2. Patuakhali Science and Technology University (PSTU) | 14. Islamic University |
| 3. Bangamata Sheikh Fojilatunnesa Mujib Science and Technology University | 15. Sheikh Hasina University |
| 4. Bangabandhu Sheikh Mujibur Rahman Digital University, Bangladesh | 16. Khulna University |
| 5. Rangamati University of Science and Technology | 17. Comilla University |
| 6. Bangabandhu Sheikh Mujibur Rahman Science & Technology University | 18. Begum Rokeya University, Rangpur |
| 7. Pabna University of Science and Technology (PUST) | 19. Jatiya Kabi Kazi Nazrul Islam University |
| 8. Jashore University of Science and Technology | 20. Barisal University |
| 9. Noakhali Science & Technology University (NSTU) | 21. Rabindra University, Bangladesh |
| 10. Mawlana Bhashani Science & Technology University | 22. Bangabandhu Sheikh Mujibur Rahman University, Kishoreganj |
| 11. Hajee Mohammad Danesh Science & Technology University | |
| 12. Chandpur Science and Technology University | |
---
Admission Helpline: [email protected]
Attachments:
GST A Unit Circular 2021-22