Jahangirnagar University Seat Plan 2022 | JU Seat Plan 2022
Jahangirnagar University A, B, C, D, & E unit Seat Plan 2022. JU Admit Card 2022 has been published on this website juniv-admission.org and Jahangirnagar University seat plan will declare two days before the exam. This article intends on how to check the seat plan for the 2021-2022 admission session.
---
Jahangirnagar University Seat Plan 2022
Online application has finished on 16 June 2022 for admission in different units of Jahangirnagar University for the 2021-2022 academic year. JU admit card download is the next step for admission seekers because without it no one will be able to participate in the admission test.
After downloading admit card from juniv-admission.org, candidates must have to check his/her seat locations from JU Admission Seat Plan published by the Jahangirnagar University authority. The seat plan is available for download 48 hours before the particular unit exam. But before that let's take a look at the important schedules.
Seat Plan Publish Date: জাহাঙ্গীনগর বিশ্ববিদ্যালয়ের ভর্তি পরীক্ষার ইউনিট ভিত্তিক আসন বিন্যাস প্রকাশ করা হয়েছে। সবাইকে তার নিজ নিজ ইউনিটের আসন বিন্যাস দেখার জন্য অনুরোধ করা যাচ্ছে।
---
JU Admission Test Date 2022
Jahangirnagar University Admission Test Schedule has been Announced. According to the New Admission Test Schedule, the Test will be started on 31 July 2022 with C Unit Admission Test it will be continuing till 11 August 2022. JU (Jahangirnagar University) Admission Exam will be held shift-wise. One day highest 6 shifts exam will be seized.
The schedule can also be found on the JU official and Admission website. You can take a look at the details Admission Test Schedule.
Units
Faculty
Date
A Unit
Mathematical and Physical Sciences Faculty.
Institute of Information Technology.
2 and 3 August 2022
B Unit
Social Science Faculty.
Law Faculty.
1 August 2022
C Unit
Arts and Humanities Faculty.
Bangabandhu Institute of Comparative Literature and Culture.
31 July 2022
D Unit
Biological Science Faculty.
3 and 4 August 2022
E Unit
Business Studies Faculty.
Institute of Business Administration, (IBA-JU).
4 August 2022
1st Shift: 09:00 am – 10:00 am
2nd shift: 10:25 am – 11:25 am
3rd shift: 11:50 am – 12:50 pm
4th shift: 01:50 pm – 02:50 pm
5th shift: 03:15 pm – 04:15 pm
6th shift: 04:40 pm – 05:40 pm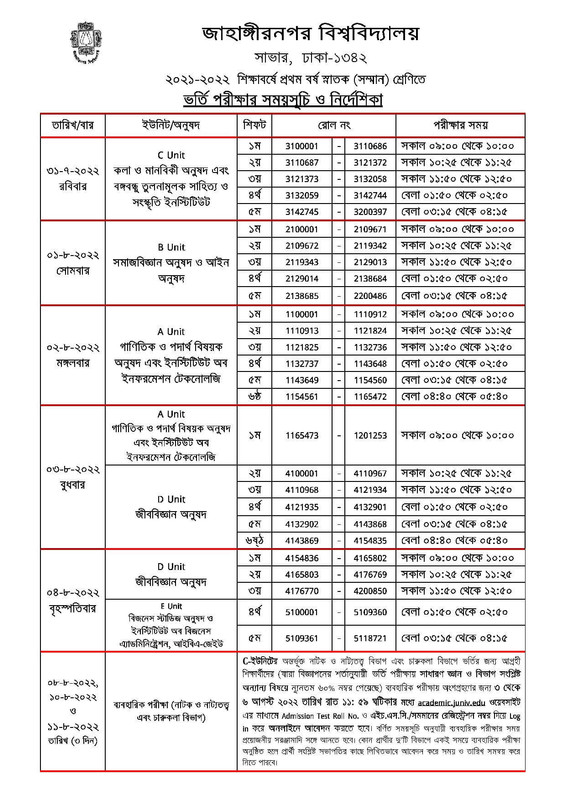 ---
How to know the JU Admission Seat Plan
The JU Admission Seat Plan can be known through the website and SMS. Candidates need to know the seating arrangement as their own responsibility. Jahangirnagar University authority will not send any kind of SMS. However, they will be Published Notice on the Admission Website and Official website in this regard.

At first, visit on juniv-admission.org/
Go to the "Seat Plan" Menu
Enter your registered mobile number (the number you used for the online application for JU admission ID and Password in the box).
Click on the login button below and enter your JU admission-related account.
Check your seat plan (building name and room number) from the Dashboard.
One or two days before the admission test of any unit, you can know the seating arrangement, name of the center, address, and location by logging in. The Room Number, Building Name, Building Number, and other information will be mentioned on the Seat Plan. Juniv Admission Seat Plan basically Published 48 hours before the admission test of any unit.
---
JU Seat Plan 2022
Once the seat plan is published the link to view the seat plan will be added to the table below. Follow the below instruction to get seat distribution –
JU Seat Plan by Online
JU Seat Plan by SMS
A detailed Jahangirnagar University Admission Seat Plan including exam center name, exam room number, and building name will be sent to the candidate's mobile through SMS.
---
JU Admission Mark Distribution
It has been decided to take 80 Marks MCQ test for all units in the Jahangirnagar University Admission. The Exam Duration will be 55 Minutes. The student will be given extra 5 minutes to fill up the OMR sheet.
Another 20 marks practical exam schedule for Drama & Dramatics and Fine Art under C Unit will be informed later.
Unit & Topic-wise Marks Distribution is given below:
Unit
Exam Topic
Marks
Total Marks
Time
Syllabus
A
Bangla
English
Mathematics
Physics
Chemistry
ICT
03
03
22
22
22
08
80
55 Minutes
HSC Syllabus of 2021
B
Bangla
English
Mathematics
General Knowledge & IQ
25
25
05
25
80
55 Minutes
HSC Syllabus of 2021
C
Bangla
English
General Knowledge & Subject-based questions
15
15
50
80
55 Minutes
HSC Syllabus of 2021
D
Bangla & English
Chemistry
Botany
Zoology
IQ
08
24
22
22
04
80
55 Minutes
HSC Syllabus of 2021
E
Bangla
English
Mathematics
Recent Business Topics
10
30
25
15
80
55 Minutes
HSC Syllabus of 2021
Negative Marking: 0.20 mark will be deducted for each wrong answer.
Pass Mark: 33% for all units (40% marks for Drama & Dramatics and Fine Art practical exam). Candidates must have to qualify for the pass marks prescribed for that department.
Practical Exam: Practical exam schedule for Drama & Dramatics, Fine Art will be notified later.
---
JU Admission Test Result 2022
We will share another post based on this topic but we want you to know the updated news. Here is the process of checking Jahangirnagar University admission test result 2022.
Jahangirnagar university admission exam results will be published at most three (07) days after the exam takes place.
The admission test result will be declared after the end of each unit test.
Visit this website- https://juniv-admission.org/ and log in to your JU admission account to get the result.
However, you will also get the JU admission exam result on your registered mobile number.
---
JU Admission Test – Important Things to Know
Candidates have to carry some necessary documents to participate in the Jahangirnagar University admission test-
1. SSC Registration Card
2. JU Admit Card
3. Ballpoint Pen
Things you cannot carry-
1. Bags, books, mobile phones, watches, calculators or any other electronic devices.
2. Any type of pencil, paper
3. Any type of hardboard
There will be a clock in the examination hall to check the time
Admission Information
Jahangirnagar University
Savar, Dhaka-1342, Bangladesh.
Help Center (10:00 am – 07:00 pm)
Application, Payment, Photo & Signature upload,
Admit Card and Seat plan related
01324179774, 01324179775,
01324179776, 01324179777
General Query and other (24 hours open)
01324179778, 01324179779
Email
[email protected]
Attachment
JU Admission Circular 2021-22