JU D Unit Admission 2021-22 | Jahangirnagar University D Unit Circular 2021-22 has been published by Jahangirnagar University.
In this article, we are going to talk all about D unit admission to Jahangirnagar University. The Unit focuses on Biological Science subjects. In addition, we are going to share all the details of this Unit.
জাহাঙ্গীনগর বিশ্ববিদ্যালয়ের ভর্তি পরীক্ষার ইউনিট ভিত্তিক পূর্ণাঙ্গ সময়সূচি প্রকাশ করা হয়েছে। ডি-ইউনিটের ভর্তি পরীক্ষা ৩ ও ৪ আগষ্ট অনুষ্ঠিত হবে।
---
JU D Unit Admission 2021-22
There is a total of 367 seats for the Biological Science subjects in Jahangirnagar University D Unit. If a student takes part in JU D unit, then he should know about the JU D Unit subject requirement, subject list, admission test marks distribution, result, circular details etc.
JU D Unit Admission Timeline 2022
Application Start: 18 May 2022, 10:00 AM
Application Deadline: 16 June 2022, 11:59 PM
Admission Exam Date: 3 and 4 August 2022
Admission Application Fee: 600/- Taka
Application Link: https://juniv-admission.org/
JU D Unit Exam Date 2022
---
JU D Unit Requirements
Applicants who have passed SSC or equivalent examination in 2018 and after years; HSC or equivalent examination in 2020 & 2021 from Science or Agricultural Science group are eligible to apply.
Candidates must have a minimum GPA of 4.0 in both SSC and HSC examinations separately.
Also, the candidates who want to be admitted to any department must have the qualifications prescribed for that department.
Also Read: JU Subject List
---
JU D Unit Mark Distribution
It was decided to take 80 Marks MCQ in the D unit of Jahangirnagar University Admission. MCQ Exam Duration for D Unit will be 55 minutes.
Topic-wise Marks Distribution is given below:
Exam Type
Exam Topic
Marks
Total Marks
Time
Syllabus
MCQ
Bangla & English
Chemistry
Botany
Zoology
IQ
08
24
22
22
04
80
55 Minutes
HSC Short Syllabus of 2021
MCQ Exam: 0.20 mark will be deducted for each wrong answer.
Pass Mark: Minimum pass marks 33%, and candidate must have the minimum pass marks prescribed for his desired department.

---
JU D Unit Merit List 2022 – How to Prepare
As per the admission prospectus, applicants' profiles will be evaluated in accordance with different parameters such as Admission Test Scores, and Previous Results, to select the final candidates. The written test score with GPA of the SSC and HSC or equivalent examinations will be set as 100 and will be evaluated as follows:
| Description | Marks |
| --- | --- |
| Admission Test | 80 Marks |
| GPA obtained in SSC / equivalent examination = 1.5*SSC GPA | 7.5 Marks |
| GPA obtained in HSC / equivalent examination = 2.5*HSC GPA | 12.5 Marks |
| Total | 100 Marks |
** Merit list will be prepared based on the score of the admission test and the result of the SSC / equivalent and HSC / equivalent examinations.
---
JU D Unit Admission Circular 2021-22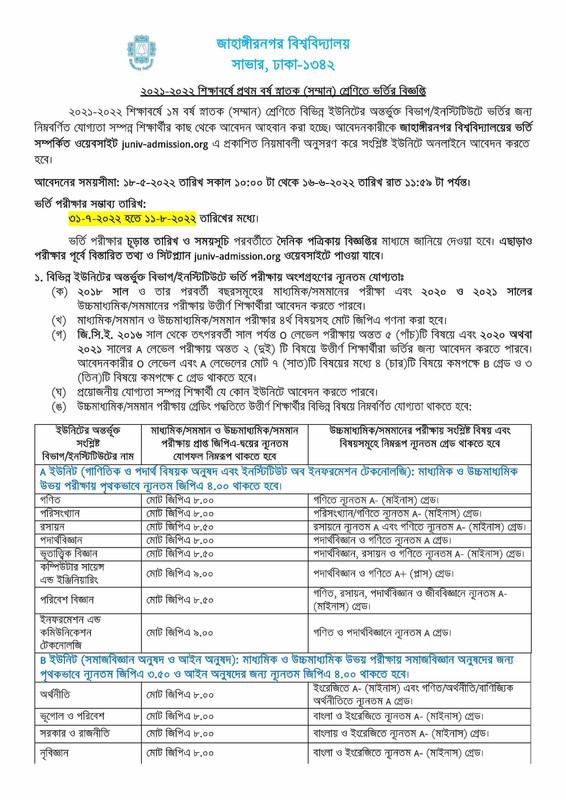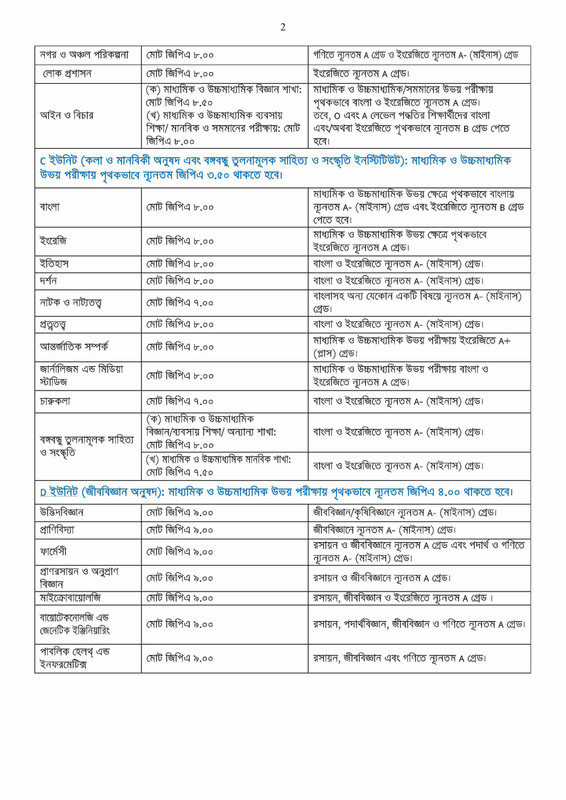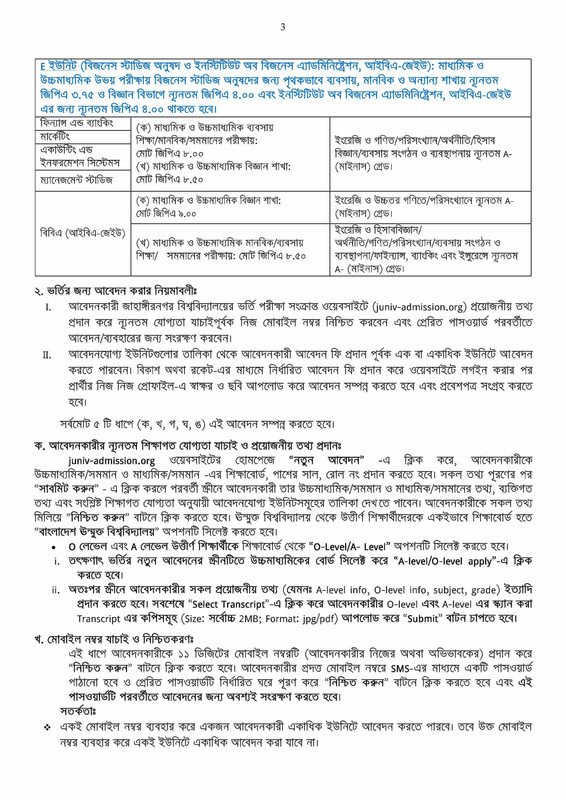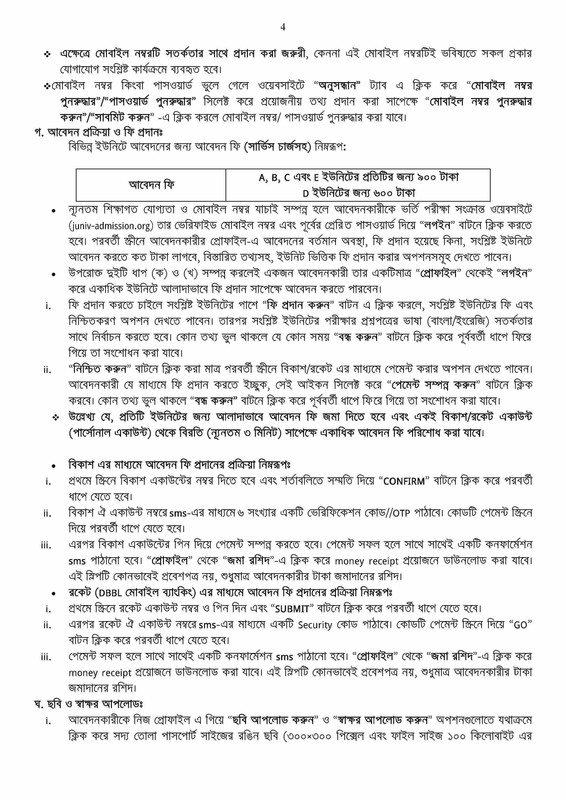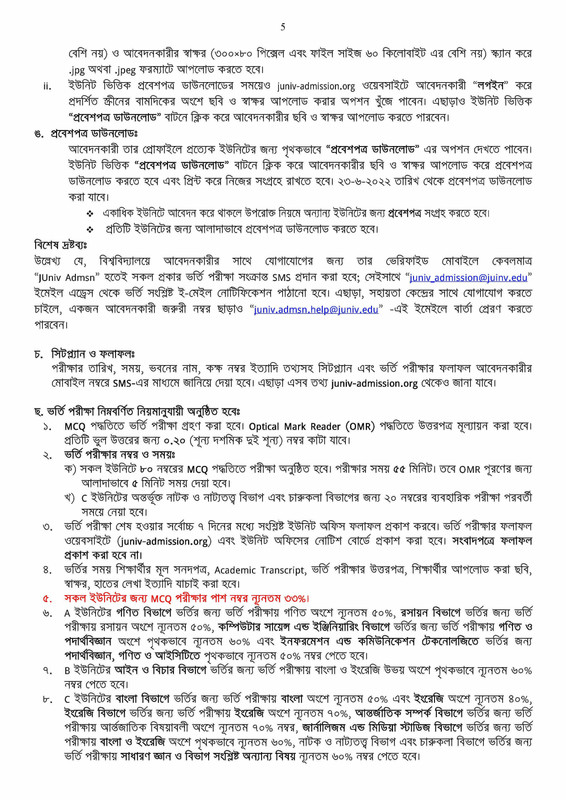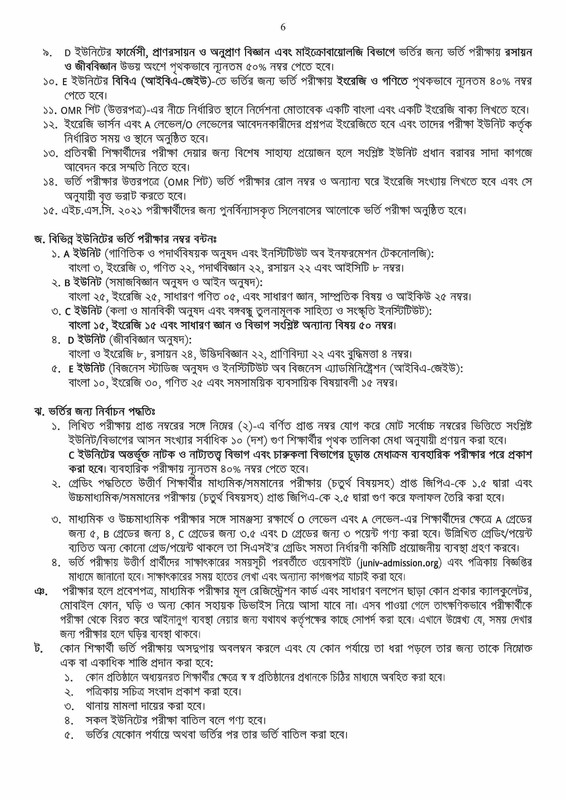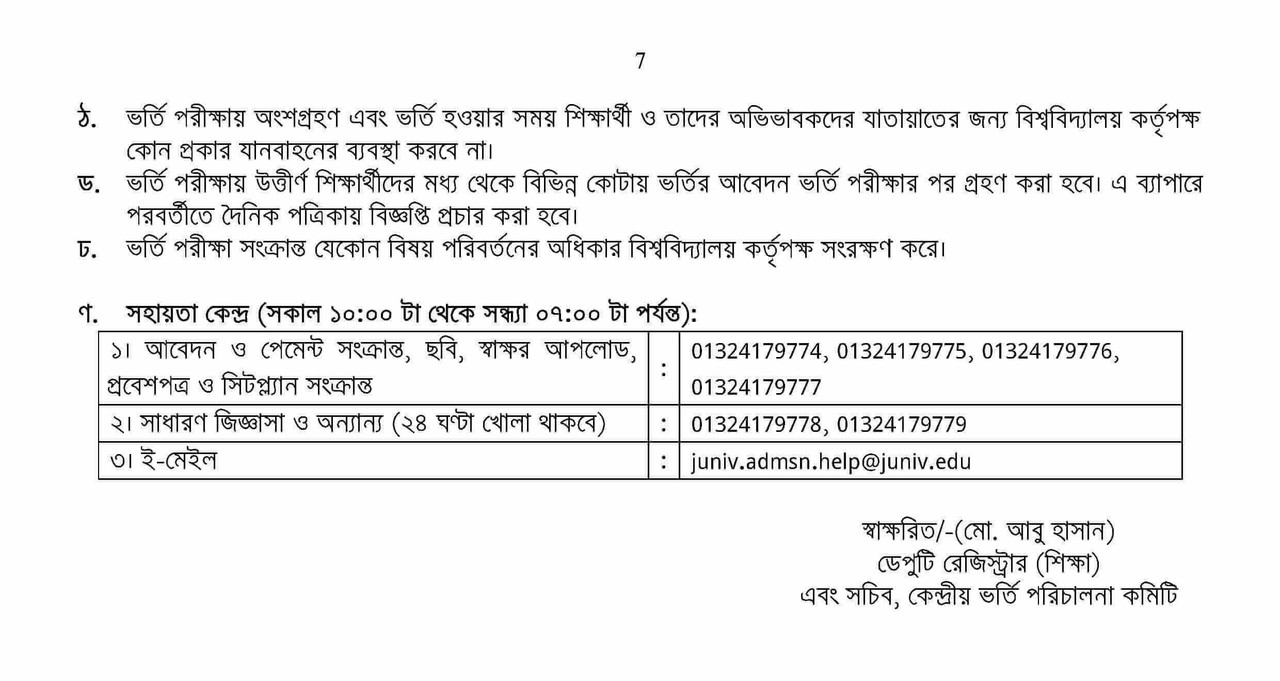 ---
JU D Unit Circular 2022 – How to Apply
Jahangirnagar University admission website called juniv-admission.org for admission application, login and all related information. Eligible candidates can apply for admission by following the below-mentioned procedure. Its noted that, applicants must submit the application before the deadline otherwise application submission will not be considered valid.
Once the minimum eligibility and mobile number verification are completed, the applicant has to click on the login button with his verified mobile number and password on the admission test website.
On the next screen, you will see the current status of the application, whether the fee has been paid, how much it will cost to apply for the unit, unit-based fee, and pay the unit-based fee with detailed information.
Applicants will then be able to apply by logging in from a single profile and paying multiple fees separately.
If you want to pay the fee, click on the "Pay Fee" button next to the corresponding unit and you will see the confirmation option of the corresponding unit.
Then the language of the examination question paper of the concerned unit should be carefully selected Bangla or English.
If any information is incorrect, it can be corrected at any time by clicking on the "Close" button and returning to the previous step.
Just click the "Confirm" button and you will see the option to pay via bCash / Rocket on the next screen. Select the icon through which the applicant is willing to pay the fee and click on "Complete Payment" button.
If any information is incorrect, click on the Close button to go back to the previous step and correct it.
Caution: Before your payment, please check the admission circular payment guideline.
---
JU All Unit Admission Notice
---
JU D Unit Admit Card 2022
Jahangirnagar University Admit card is not published yet. However, the University will publish admit card to download from 23 June 2022. When admit card will be published that information will be notified as soon as possible. You can download admit card from our website.
---
JU D Unit Seat Plan 2022
Basically, Jahangirnagar University Publish the Seat Location two or three days prior to the Admission Test of any Unit(s). Moreover, candidates will be informed of his/her seat plan through SMS as per instructions given later. You can download admit card from our website.
---
JU D Unit Result 2022
Jahangirnagar University D Unit Result will be found here. Generally, Admission Results publish Within 7 Days of a particular unit admission test. You can also download the JU Admission Merit List from our website bducation.com as well. Keep an eye on this post and our website for any information regarding JU D Unit Admission Result 2022.
---
Admission Information
Jahangirnagar University
Savar, Dhaka-1342, Bangladesh.
Help Center (10:00 am – 07:00 pm)
Application, Payment, Photo & Signature upload,
Admit Card and Seat plan related
01324179774, 01324179775,
01324179776, 01324179777
General Query and other (24 hours open)
01324179778, 01324179779
Email
[email protected]
Attachments:
JU Admission Circular 2021-22